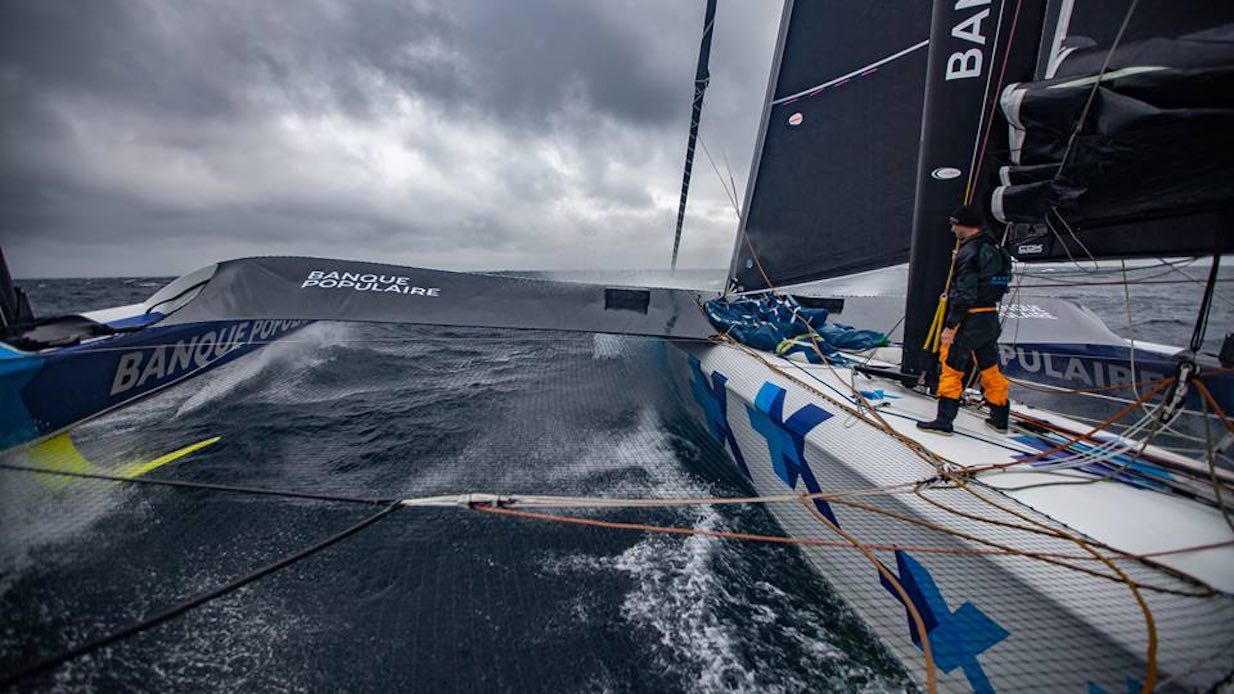 Ensamkappseglingen Route du Rhum har redan skördat många offer. Flera har brutit. Ett par kölbåtar på grund av mastbrott. Två trimaraner har fått brutala skador efter kollisioner. Värst är det dock för den foilande trimaranen Banque Populaire.
Vid slutet av den andra dagen av Route du Rhum med destination Guadeloupe drog som väntat hårt väder in över de 130 båtarna,
Flera seglare har valt att söka skydd i franska och spanska hamnar. Flera har tvingats bryta av diverse mer eller mindre allvarliga haverier.
Den allvarligaste händelsen har drabbat Vendée Globe-vinnaren Armel Le Cléac'h och hans Maxi SoloBanque Populaire IX.
Båten kapsejsade och en uppgift kring orsaken säger att ett skrov har lossnat.
Armel Le Cléac'h skickade ett par timmar innan kapsejsningen.
Den stora blå och vita trimaranen låg på tredje plats i den spektakulära ULTIME-klassen när olyckan inträffade. Vindstyrkan låg på cirka 17 m/s och våghöjden uppges ha varit fem meter.
Se också:
Första svensken i Route du Rhum!
Extrema 100-fots foilande trimaraner i stormigt Route du Rhum
Foiling offshore med jättetrimaran – så funkar det!

Skepparen Le Cléac'h rapporteras sitta säker inne i cockpiten på mittskrovet. Han befinner sig 340 nautiska mil nordost om Azorerna och inväntar hjälp.
"Vi mottog ett samtal klockan 13:23 fransk tid efter att Armel aktiverade sin nödsändare," uppger räddningstjänsten.
Banque Populaires lagledare informerade om att båten har kapsejsat och att Armel är inuti och säker i mittskrovet. Han samlar all sin säkerhets- och överlevnadsutrustning medan han väntar på räddning.
"Han är 450 nautiska mil från Lissabon och 320 sjömil från Punta Delgada, så lite närmare Azorerna".
"Det är för långt för en helikopter att gå till platsen, men vi vet via sjöfartskoordineringscentret att ett flyg flyger över för att kolla in situationen. Armel är ok och gör sig redo att evakueras."
Banque Populaire under startdagen av Route du Rhum.
Det är andra gången som den nya Banque Populaire-trimaranen kapsejsar. Läs mer om den första incidenten här.
Pressreleasen i sin helhet:
Earlier in the day there were two dismastings. In the IMOCA division the Franco-German sailor Isabelle Joschke lost her rig when holding seventh position and had to turn back towards the French coast. Then the same fate befell the British skipper Sam Goodchild on board Narcos Mexico in the Class40 fleet.
Goodchild, one of the pre-start favourites in the 53-strong fleet of Class40s, was making up ground and had climbed to third place when the rig suddenly gave way in 30-35 knots of wind and big seas.
"I had just picked up a few places," Goodchild reported. "I went down below and started to tidy up and then there was a big bang. I came up on deck and the whole rig was in the water and we were drifting over the top of it."
Goodchild has now erected a jury rig using the boat's boom and stormsail and is heading to the French port of Brest. "I'm massively disappointed," he added. "My aim for the Route du Rhum was not to have any regrets and I honestly don't think there was something I could have done differently in hindsight."
While the majority of the 123 skippers continued blasting their way along the 3,542-mile course towards Point-à-Pitre in Guadeloupe, there were nearly 50 boats that were either seeking shelter along the French and Spanish coasts or heading back towards the French coast with technical issues that were preventing them from continuing at this stage.
These include three in the ULTIME class, six IMOCAS, 12 Class40s and a total of 27 in the combined Rhum Mono and Multi classes. Among them in the IMOCA fleet is the French skipper Jérémie Beyou whose brand new Charalhas developed issues with its steering system and Beyou is heading for Lorient.
Racing wise the fleet continues to be led by François Gabart on MACIF in the ULTIME class who is now passing to the north of Madeira and is almost completely through the worst of the weather with around 2,600 miles to sail.
Gabart has been going fast but he has not been able to shake off his fellow countryman Francis Joyon on IDEC Sport who has been tracking his every move in an older boat and at 62 years of age is showing that he has not lost his competitive edge. Joyon was just over 40 miles behind MACIF after 48 hours of racing.
In the Multi50 fleet the early leader Lalou Roucayrol opted to take refuge in a port close to the Spanish-Portuguese border. Behind him Armel Tripon on Reaute Chocolat looked to be heading in too but as he got close to the coast he changed his mind and has now headed off out to sea. Currently fourth, this could be a potentially race-winning move for Tripon.
In the IMOCA class, whose skippers will be contending with more rough weather conditions overnight, the chess game at the front between the three leading boats continues to unfold, with leader Alex Thomson on Hugo Boss still prospering from his lone move to the north of the fleet.
Thomson is currently about 200 miles north of second-placed Vincent Riou in PRBand 30 miles ahead of him in terms of distance to the finish. Paul Meilhat in SMA continues to hold a very impressive third place, 15 miles behind PRB.
Like the IMOCAs, the Class40 skippers have got a lot of tough sailing ahead of them with gale force winds and big seas on the menu overnight. The leader continues to be Yoann Richomme of France on Veedol-AIC with Aymeric Chappelier on AINA Enfance Avenir now in second after trading places with Britain's Phil Sharp on IMERYS CLEAN ENERGY who has also had to deal with a broken spinnaker halyard.
Sharp revealed today that he had to climb his mast to retrieve the halyard after it broke on Sunday night. "The sail dropped straight into the water, so I stopped the boat and caught it quickly before (I hope) any damage," he reported.
"This halyard is essential for flying our most important foresails in this race – the small and medium spinnaker, so I had to find a solution, and quickly. The only option was to climb the mast, and with the wave height expected to increase significantly for thenext few days I had to get the job done."
The 52-year-old American sailor Michael Hennessey has been enjoying his first solo transatlantic race and is holding an excellent 21stposition in the Class40 fleet on board Dragon.
"After yesterday's transition through the ridge into the northerlies, then back into the southerlies, last night was a classic," he said. "Winds built to sustained 35 knots and gusts to 40. Sea height was four metres and Dragontook flying lessons. And while her launch is pretty good, her landing needs some work.
"No damage," he added, "but there was some clean-up to do this morning when the winds settled down a bit. I'm taking a short hitch south, then back west. Getting ready for another rough one tonight."
In the amateur Rhum Multi class Pierre Antoine on Olmix is out on his own, 70 miles ahead of his nearest pursuer, Alain Delhumeau on Rayon Vert.
In the Rhum Mono division Sidney Gavignet on Café Joyeux has an even bigger lead of just over 100 miles on fellow Frenchman Wilfrid Clerton on the big monohull Cap Au Cap Location-SOS Villages D'Enfants.