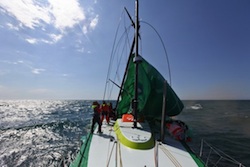 Ikväll föll Groupama snöpligt på mållinjen. När masten gick av ledde de över Puma med 2,2 sjömil. De har haft ledningen under större delen av etapp fem så det är riktigt tungt för besättningen med svenska Martin Krite och Martin Strömberg ombord. Nu står slutstriden mellan Puma och Telefónica. Se bildspel.
Foto: Yann Riou.
Pressrelease från Volvo Ocean Race:
Groupama were tonight limping towards a haven in Uruguay after being forced to suspend racing from the fifth leg after the mast broke with a second successive victory agonisingly close.
"We just lost the rig now, all the crew is safe. We are working to stabilise the rig on the boat. Not easy" – Groupama skipper Franck Cammas
Groupama's dismasting while in the lead earlier today leaves PUMA Ocean Racing powered by BERG (Ken Read/USA) with only Telefónica (Iker Martínez/ESP) able to challenge them for the lead in the final stage of what has been an incredible Leg 5 from Auckland to Itajaí.
With 677 nautical miles to go to the finish line, Groupama (Franck Cammas/FRA) dismasted 60 nautical miles (nm) south of Punta del Este, the Uruguayan port that has hosted the Whitbread Race [the forerunner of the Volvo Ocean Race] on three occasions.
The team held a narrow lead of about 2.2 nm over PUMA at the time and was sailing close-hauled on port tack, when the rig broke, level with the first spreader, about 10 metres above the deck.
"We just lost the rig now, all the crew is safe. We are working to stabilise the rig on the boat. Not easy," a desolate skipper Franck Cammas told Race HQ at the time.
"We suspend the race now and have a look at what doing. We are 59 miles to Punta del Este."
The team has not requested assistance but temporarily suspended racing at 1542 GMT.  They are considering either continuing the 677 nm under jury rig to the finish in Itajaí, Brazil, or making for Punta del Este where they could step a replacement mast.  The team's spare rig is currently in a warehouse in the Netherlands.
The Telefónica crew, who were about 46 nm astern of Groupama at the time of the dismasting, reported a very complicated swell as the wind increased this afternoon.
At the time, PUMA and Groupama were two thirds of the way across the 120-nm Rio de la Plata estuary, which separates Argentina from Uruguay.
After the intensity and enjoyment of close-contact racing, PUMA will now go it alone as Telefónica has chosen a course just shy of 200 nm offshore and has developed 137 nm of lateral separation to leeward.  At 1900 GMT tonight, they had closed to within 36.7 nm of PUMA and were sailing two knots faster.
Meanwhile, on another continent, work has begun on CAMPER in Puerto Montt, Chile and Abu Dhabi Ocean Racing has entered the quiet waters of the Golfo Corcovado and are making their way to join CAMPER with Emirates Team New Zealand.
Both boats have suffered structural damage, which has caused them to seek a safe haven in Puerto Montt.
CAMPER suspended racing at 0130 GMT on Tuesday, but fully intends to complete Leg 5, while Abu Dhabi Ocean Racing, who retired from Leg 5 at 1000 GMT today, will ship their boat to Itajaí.The crew are all safe, with the boat around 60 nautical miles south of Punta del Este.
At 1900 UTC/GMT, PUMA led Telefonica by 36 miles