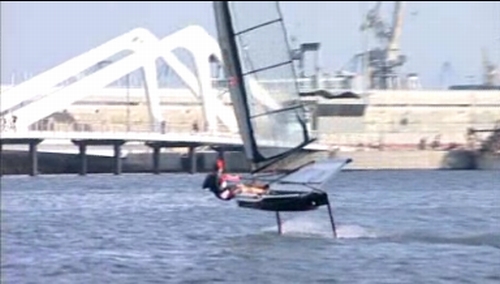 Dagens humor. Efter 8 spikar i VM drar Rohan till Valencia för att showa lite (och leverera en båt till Peter Evans i Alinghi-teamet). Det tar två minuter innan en polis dyker upp och vill sätta stopp för cirkusen. Tydligen har Rohan blivit stoppad i Norge för speeding:-)
Kolla videon här och läs mer på Rohans blog:
So we got an early flight from Milan to Valencia to start preparing for the Bladerider test sail and demo tomorrow. Two boats are here, one for Alinghi team member and Kiwi Peter Evans and one new boat for test sailing. So we spared no time checking into the hotel and wizzed straight on down to the AC Port to unpack and assemble them on the front yard of the Alinghi base. Peter had been quite busy recently of course and had not even opened his box yet, so was a suprise to see the 12k clear carbon for the first time. We got the other black painted boat sorted as well and then rigged it up to literally drop it in off the side of the marina straight into the water.

After about 2 minutes of foiling around on the harbor with crowds applauding the first few flights, the harbour police stop me and tell me to get off the water as it is ?forbidden to sail in the harbour?. So I limp back into the Alinghi base and got the Alinghi guys to make some calls and we were back on the water within 5 minutes, only to be stopped again by the same guy (quite pissed off this time) threatening me with arrest, etc. This time the guys on the Alinghi RIB got involved and dropped a few names and told him to make a few calls to important people. Only then did he leave us alone to blast around the harbour amongst millions of dollars worth of boats for an hour or so. Amac had a go as well and sailed up the channel for the spectators on the shore appartantly getting cheers all the way along.

Back ashore it was time to hose down and wash my mouth out for fear of catching some illness from the fairly average looking and smelling water. Got to meet plenty of new people (that I knew only previously by name) as well today. It was great that even Alinghi skipper Brad Butterworth found time to stop and have a chat.