Idag klockan 14 till 17 blir det spännande kappsegling med de snabba M32-katamaranerna. Hamnen.se seglar med Alite Racing och siktar på seger framför de sex andra lagen. Livesändningen startar 13.45 och är alldeles gratis!
Två danska lag, ett amerikanskt och fyra svenska ställer idag till start i "The battle of Copenhagen".
Platsen är lika ståtliga som moderna Tuborg Havn.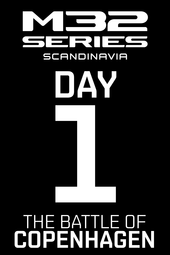 Livesändningen kan ni se här mellan 13.45 och 17.00 och till skillnad från en viss annan kappsegling så är det helt gratis att titta!
Läs mer om lagen i M32 Series här.
Banan och kappseglingsformen skiljer sig från det mesta vi tidigare sett. Allt till förmån för snabb, fysisk och actionfylld racing, läs mer om den så kallade City Racingen här.
The Battle of Copenhagen teaser

The Battle of Copenhagen. Starts today LIVE 13.45pm CET on http://m32series.com. Don't miss it. #M32series #M32 #Copenhagen US One Sailing Team Rahm Racing ESSIQ Racing Team Alite Racing M32 – Hydra Sailing Team Denmark Wallén Racing

Posted by M32 Series on den 12 augusti 2015
Här är ett smakprov om vad livesändningen kommer att visa.
Pressrelease inför "Battle of Copenhagen":
"When the M32 Series Scandinavia is coming to its third stop in Tuborg Havn, Copenhagen, the forecast predicts three days of little wind and mixed weather. What in the final day of the Gothenburg event turned out to be at the top end of the wind spectrum for these boats, will now change and the teams will have to pull out their best light wind skills to come out on top.
US One who has dominated the racing this year has had time off from M32 which might give the chasing teams an edge in the hunt for the lead. Essiq Racing, currently in second place on the leaderboard trailing only by two points, have spent time practicing outside of Gothenburg. But the boys onboard Essiq Racing might also have a little extra upper hand against Taylor Canfield this event. The confidence boost was won after beating US One in the only match between the two teams in Marstrand during the WMRT event, Stena Match Cup Sweden in the beginning of July. "We got our entry to Marstrand very late and we had minimum time to prepare but we were really happy with our performance, specially with the win against Taylor and US One" says Nicklas Dackhammar skipper of Essiq Racing with a smile and continues "But now we're focused to try to win this event and we're aiming for the lead in the series".
Alite Racing and Hydra Sailing Team has been the two teams that has put in most training hours in the waters of Öresund to get to know the local circumstances. Hydras trimmer Jakob Groth comments "We've worked intensely with the boat and we're now looking forward to match against the others to see where we stand". Hydra Sailing Team has changed national colors to the danish red and white and has also changed crew with a new skipper in Michael Hestbæk. To make up for lost time against the other teams, Hydra has spent the better of two weeks training and testing outside of Tuborg Havn preparing for their first start. They will be the second Danish entry after Team Trifork with Jes Gram-Hansen och Rasmus Köstner, who have won another podium finish in the Extreme Sailing Series with SAP Extreme Sailing Team since last.​
Alite Racings skipper Martin Strandberg has made a crew change going in to the Copenhagen event where Danish sailor Jesper Feldt is substituted against Swedish power house, Gustav Morin. Morin is coming in with plenty of brawn for this physically demanding boat but also with loads of sailing experience from Americas Cup, Volvo Ocean Race and multihull racing. Strandberg explains: "In the tight racing we see on the M32 Series you need to have a crystal clear communication for super fast decisions. Being four Swedish guys onboard will make that easier than being a mixed nationality crew as before."