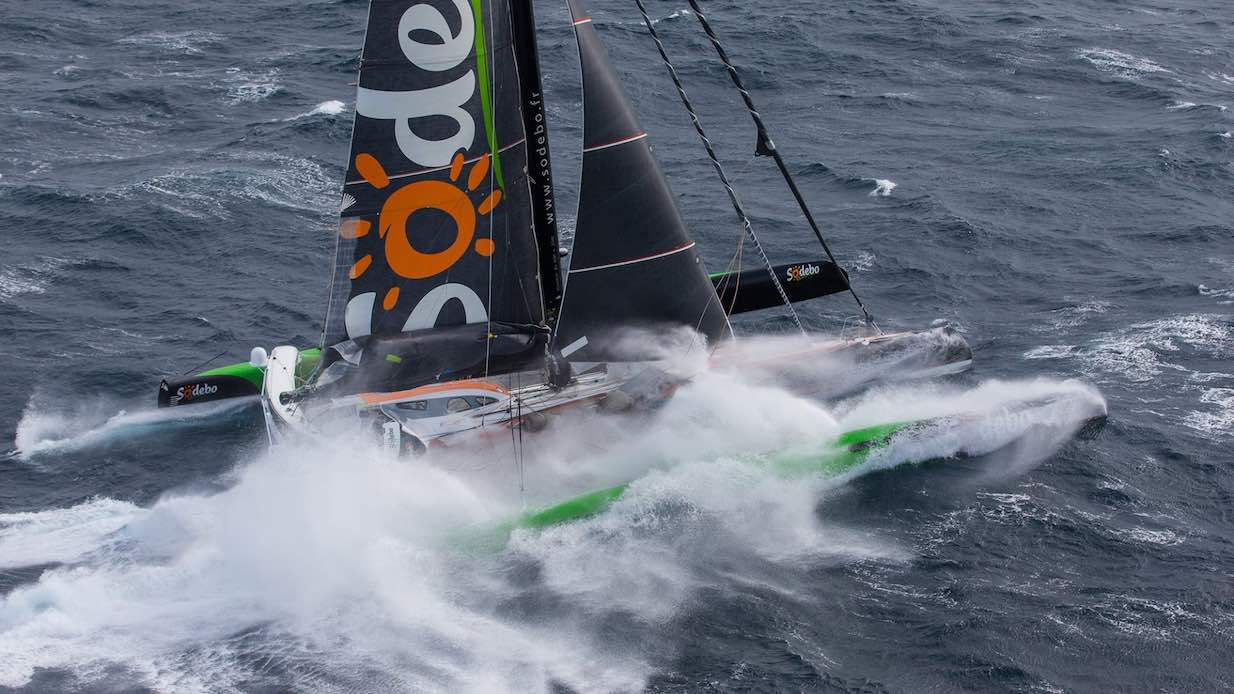 På sjätte försöket har nu Thomas Coville gjort vad många trott var omöjligt – att segla non-stop runt jorden ensam på under 50 dagar!
49 dagar, 3 timmar, 7 minuter och 38 sekunder. Det är så lång tid det tog franska Thomas Coville att segla ensam runt jorden!
När Thomas Största rival Francis Joyon kapade två veckor av det tidigare rekordet 2008 så förstod man att det skulle dröja länge innan någon skulle slå det igen. Med en dåres envishet har Thomas försökt och senaste gången missade han det med bara några timmar.
Den här gången slog han det med nästan en vecka! Här följer hela pressereleasen:
At 16h 57mn 30s GMT this 25 December 2016, Thomas Coville crossed the finish line situated some six miles offshore of Le Créac'h lighthouse on the island of Ushant (Finistère), to complete the singlehanded round the world race against the clock under sail aboard a multihull, the large trimaran Sodebo Ultim'.
In so doing, he set a new singlehanded record in a time of 49 days 3 hours 7 minutes and 38 seconds (subject to approval by the WSSRC), improving on the previous record set by Francis Joyon by 8 days 10h 26 mn and 28s. Thomas covered 28,400 miles at a remarkable average speed of 24.10 knots (52,596 kilometres at 44km/h).
In the half-light of the remains of a day obscured by a mist that totally enveloped the cliffs of the Breton island of Ushant, the 48-year old skipper put in two last gybes (change of tack with the wind on the stern, which is a manoeuvre as technical as it is physical) before finally enjoying deliverance. Right till the last, he drove his 31-metre long, 21-metre wide trimaran at an infernal pace, sparing no effort in manoeuvring his massive boat as if he was sailing fully crewed. Along the way, the solo sailor secured the third best time around the world, whether it be contested in singlehanded or crewed configuration (1).
On 6 November 2016 at 13:49 GMT, Thomas set sail on his fifth attempt at breaking the record set by Francis Joyon in January 2008 of 57 days and 13 hours. This performance was quite simply exceptional at the time. The skipper of the trimaran Idec greatly improved on the record held up to that point by Briton, Ellen MacArthur. In fact, it's worth noting that there are only three people in the world to have dared to attack the singlehanded, non-stop, unassisted round the world record aboard a multihull: Francis Joyon, Ellen MacArthur and Thomas Coville.
After seven weeks at a furious pace, Thomas Coville has pulled off a crazy gamble: singlehandedly driving his 31-metre long and 21-metre wide trimaran equipped with a 35-metre high mast carrying up to 680 square metres of sail area, to become the fastest man around the world in solo configuration.
Discover the first reactions from Thomas Coville below.
In 2015-2016, the large trimarans Spindrift (ex-Banque Populaire) and IDEC Sport (ex-Groupama 3), made a bid for the Jules Verne Trophy (crewed round the world record) held by Loïck Peyron with a time of 45 days. Both managed to circumnavigate the globe in 47 days, but not being records, these times were not officially approved.
Thomas Coville will spend the night at sea with his shore crew, who joined him two hours after crossing the line. We contacted him by telephone. He told us about the minutes that follow the conclusion of such a feat:
The finish
"Nobody was planning to sail a sub-50-day time in solo configuration.
The finish is something that builds in you, something very dense. It's a very weighty sensation that overwhelms you. I felt a sense of anguish about the final hours, of the final days, of hitting something and all that was putting pressure on me. All of this was combined with a great deal of fatigue. My sleep deprivation is very real.
It's a very big day for me both as an athlete and as a man. I'm proud of the journey I've been on to get to this point. I've fallen, I've picked myself up and all that has given me this mental strength. Experience is what one does with one's failures. I can say today that I've enhanced the value of them.
That's what I'm proud of."
A colossal amount of work to get to this stage
"Forcing yourself to put in so many manoeuvres means that we're not far off the crewed records. Sometimes I had blood in my mouth as I carried sails, which weigh 150kg and are full of water that you have to drag 10cm at a time on a moving trampoline. There were nights outside, laid out in the cockpit, in the cold with a sheet in your hand, ready to ease it if the boat flies a hull too high. It's not a very elegant job, but it works. With the speeds you reach, you're always on a razor's edge. You have highs and lows. The South Atlantic was very hard. I managed to content myself with minor victories on a daily level. Physically, I cannot take it any further."
And now?
"Right now, I want just one thing: to sleep and let my mind rest. I want to go to sleep telling myself: All's well!"
Patricia Brochard, Co-President of Sodebo:
Heading out to welcome the boat in and pay homage to Thomas Coville's performance, Patricia Brochard, Co-President of Sodebo made no secret of her delight at the passage of the line: "I feel a great sense of relief and pride. I'm happy and it's a happiness shared with Thomas' teams, with his family, with the media and the team who take care of the communication.
I'm happy for the company and the employees. With this record, Thomas is highlighting the values that we all share together.
What's beautiful is the journey you take to get here, everything that you put in place to build a story. The result is a consequence of this."
Record data:
SODEBO ULTIM' ROUND THE WORLD: click on the cartography
References:
Start on 6 November at 13 hours 49 minutes and 52 seconds GMT
Passage of the equator: on 12 November at 07h 04min 54s GMT
Time from Ushant / Equator*: 5d 17h 15m 2s
Passage of Cape of Good Hope: 20 November at 18h 33min 40s GMT
Time from Ushant / Good Hope*: 14 days 4 hours 43 minutes and 48 seconds
Passage of Cape Leeuwin: on 27 November at 16:59 GMT
Time from Ushant / Cape Leeuwin: 21 days 3 hours 9 min and 8s
Indian Ocean Record* (Cape Agulhas /Tasmania): 8d 12h 19m on 29 November at 06:51 GMT
or 23h 47min faster than the previous record set by Francis Joyon in 2007 (9d 12h 6min)
Average speed: 25.16 knots for 5,325 miles
Time from Ushant / Tasmania: 22d 17h 1m 23s – or a lead of 2 days 5 hours 4 mins over the record set by Francis Joyon
Pacific Ocean record* (Tasmania/Cape Horn): 8d 18h 28m 30s or 1 day 19h 58min better than the previous record set by Francis Joyon in 2007 (10d 14h 26min)
Time from Ushant / Cape Horn: 31d 11h 30m 8s – Or a lead of 4 days and 59 mins over Francis Joyon's record
Record Equator/Equator: 35 days 21 hours 38 min 6 sec – Or 5 days 11 hours 36 minutes better
Time to beat: 57 days 13 hours and 34 minutes,
Which equates to a finish before 3 January 2017 at 03 hours 22 min and 57 sec GMT.
*awaiting WSSRC confirmation