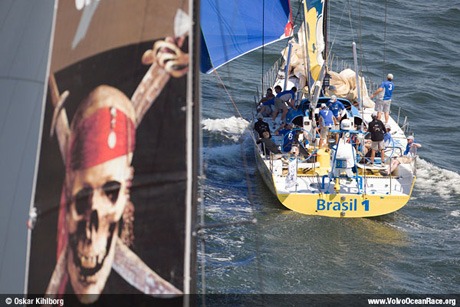 Paul Cayard menar att han hade seglat ikapp One i den (för One ofördelaktigt) lätta vinden, om det inte hade varit för att han ville lura ut Torben Grael på den ofördelaktiga högersidan.
Det var viktigt att hindra Brasil 1 från att vinna med tanke på kampen om totalsilvret i denna utgåva av Volvo Ocean Race. Mike Sandersom å sin sida menar däremot att One vann med hjälp av god taktik och gott besättningsarbete.
Jag gissar att Torben Grael måste ha lidit helvetes kval under den här sista kryssen. Om han fortsatte åt höger kunde han kontrollera Paul Cayard, men hade liten chans att gå om One. Om han slog till vänster kunde han slå One men då hade han släppt kontrollen på Cayard. Kampen om totalsilvret är grym!
Mike Sanderson: "I don't think I need to explain again that this team is not just about the boat. We showed again today that our tactics and crew work are good enough to win races," Sanderson explained. "We sailed the boat superbly, possibly the best of the race so far. This was a great performance by all the guys, particularly the tacticians."
The brains trust first gave the call to break immediately to the left after the start, leaving their rivals to go slow on the right of the course, and chose faultless lay-lines thereafter as they preserved their lead.
The brilliance of Rob Greenhalgh, Mark Christensen, Stan Honey and Sanderson, however, did not win the race according to Paul Cayard, the skipper of third placed Pirates of the Caribbean, who claimed his leaderboard struggle with Brasil 1 prevented his crew from pursuing an overtaking opportunity.
He was referring to his decision to tack right having just rounded the bottom mark for the second time. With ABN AMRO ONE tacking left, Brasil 1 and then Pirates followed to the mark, but instead of taking the conventional tack Cayard turned right. Had he gone left, and not successfully lured Brasil 1 from going for gold, he says Sanderson would not have won today.
He explained, "The only reason ABN AMRO ONE won that race was because on the last lap we both (Brasil 1 and Pirates, second and third placed respectively) went the wrong way. I did it on purpose. We were catching them easily, but Brasil and us consciously went to the right. Left was the right way to go, but Brasil was in front of me and had me in a tough spot. If I tacked and went left with ABN Brasil would have also tacked to cover me, but more importantly they'd be going the right way and I was worried they would catch ABN. I stayed on purpose in a bad situation so they were tempted to carry on going in the wrong direction. It was match racing."
Skrivet av Arne K Larssen
Läs hela Arnes blogg på www.regatta.nu