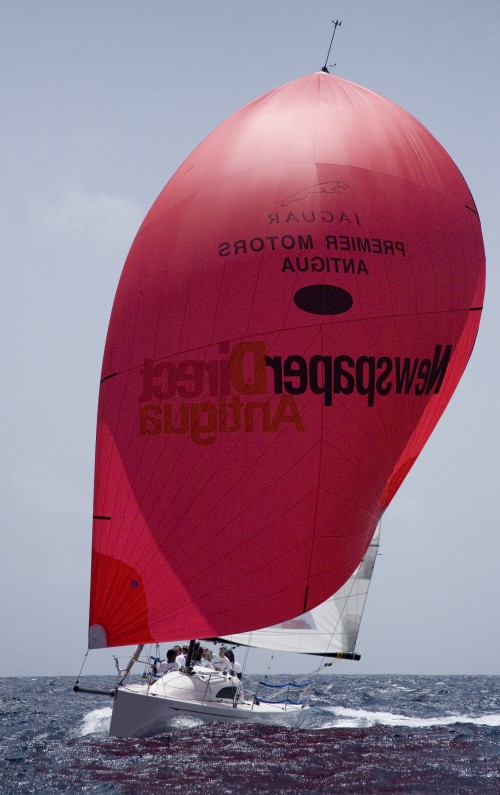 En båt det snackats mycket om (framförallt på Saling Anarchy) är Flying Tiger 10M. Nu skall den börja säljas i våra trakter. Samma målgrupp som HP 1020?
Det brukar ju vara norrmän som håller sig framme, men nu är det våra grannar i öster som tar upp stafettpinnen. Jag har efterlyst provsegling med sauna.
Pris ?på startlinjen? inklusive segel men exklusive utombordare och elektronik beräknas hamna på 620.000:-!
9.96 x 2.78 m
Draft: 2.32 (keel up: 1.0 m)
Displacement: 1985 kg Keel: 870 kg
Mainsail (37.4 m2) + jib (23.4 m2) + assymetrical (106.8 m2)
Specifikation
Sailplan
Polars
Tuning Guide
LYS-certifikat (1.35)
IRC-certifikat (TCC=1.128)
International Class Association
Flying Tiger 10M Anarchy
Neil Pryde – FT10
North Sails – FT10 One Design
Quantum – FT10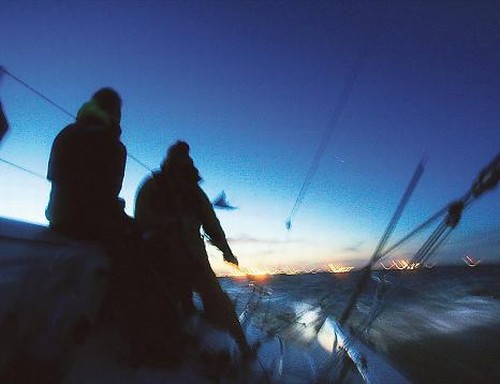 Flying Tiger under Helsinki-Tallinn Race:
We did the Helsinki-Tallinn Race, the largest offshore race here (201 boats) with the Tiger and had a reporter and a photographer from Helsingin Sanomat (combine Svenska Dagbladet and Dagens Nyheter and you still lack some, it?s like the only newspaper in Finland) that did a front page article of our sail.

The weather was tough! We had 22-27kts of wind straight from the nose and 2-4m waves. With only OEM Neill Pryde sails (100% jib and only one reef on the main) it was quite a ride but I have to say that after that I have 150% confidence in the Tiger. She was overpowered (trimguide says that over 15kts of wind you shuld change to the 85% Q jib) but handled VERY WELL. Anyhow, not the weather for the Tiger. We did it in LYS-1 and of course lost to 40-footers that are better suited for going uphill in those conditions. We ware 16th in our class (out of 38 boats), and I have to admit we are happy with it.

Anyhow, coming back from Tallinn on sunday was a blast! We had 12kts of wind from the west and maintained sustainable speeds of 10-11kts (measured by GPS) and everytime we had a wave we surfed 13-14kts. A blast!! It was absolutely fantastic!!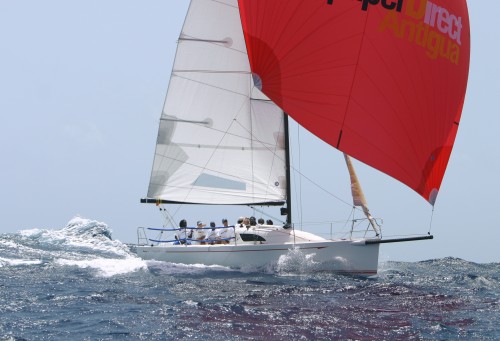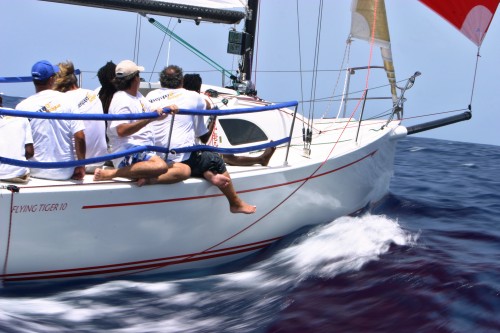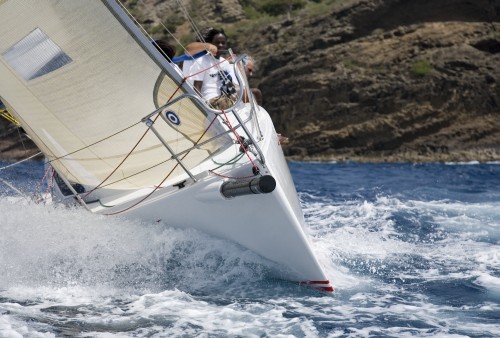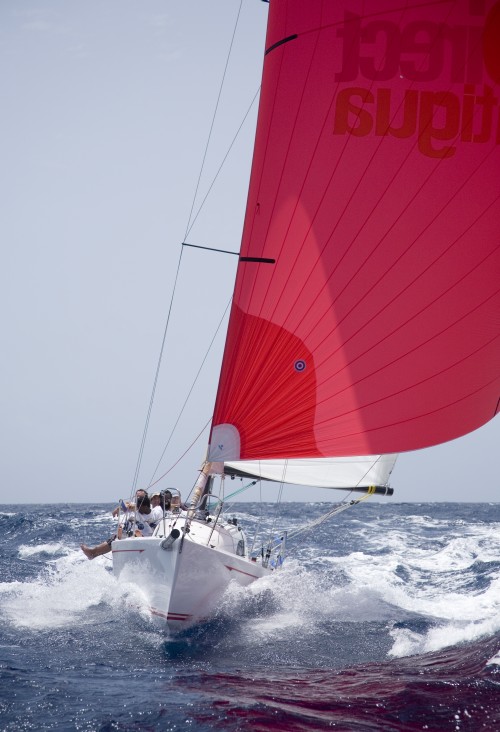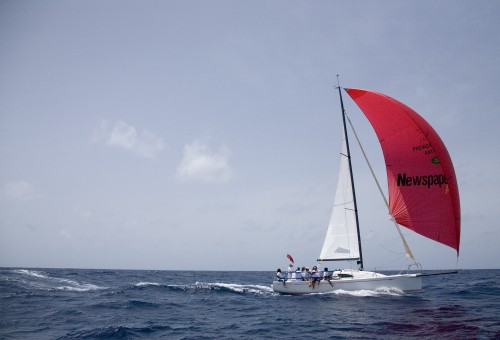 Tiger Trading Ltd has been awarded the rights to sell and market the Flying Tiger 10 sport boat in Scandinavia and the Baltics. The Flying Tiger 10M is a ten meter modern One Design Club Racer. It features a lifting keel and carbon fiber mast, boom and bowsprit. The yacht weighs 1985kg of which 870kg is in the keel.

The Tiger has been designed by the acclaimed yacht designer Robert Perry. The commercial rights for the yacht are owned by the American company Hiptrader Ltd, based in Coronado California and managed by Bill Stevens. The yacht is assembled by Hansheng Yachts, based in Xiamen, China.

The yacht is delivered as a complete sail away package with jib (23.4 m2), mainsail (37.4m2) and asymmetrical spin (106.8m2) from Neil Pryde Sails. Both North Sails and Quantum Sails have class sails readily available. The Flying Tiger 10M features deck hardware from Harken and Spinlock. The furling system is from Facnor. The carbon fiber mast, boom and bowsprit are manufactured by CST Composites of Australia.

The Flying Tiger 10M has been a huge success in an incredibly short time. Regattas in the United States have had nearly ten Tigers competing in their own One Design class. The international media has been enthusiastic about the Flying Tiger 10M and the yacht is now competing for the ?Boat of the Year? prize in the United States.

?You can get a hold of a tiger with a few pals with the same amount of money you would be spending on just sails alone when trying to refit a yacht for competitive racing. The same kind of feeling and functionality that the Tiger has just can?t be rebuilt in a cruiser/racer?, argues Tiger Trading Ltd?s Janne Kjellman.

The story of the Flying Tiger 10M starts off in early 2005 when Bill Stevens introduced the idea of a new project to yacht designer and naval architect Robert Perry. Stevens suggested that they design a revolutionary new sport boat. The idea was to design a One Design yacht that would feature good performance characteristics at a low price. Additionally, the yacht should fit a standard sea container for transportation.

Stevens knew several yards from China from previous projects, so all that was needed was a good plan. Perry drew a draft and sent it to Stevens, who in turn posted it to the sailinganarchy.com site asking for comments from the global yacht racing community.

Interest was immediately huge. Literally thousands of comments and suggestions came around the world from the sailing community. The final nail was when Bill announced that the price for the first 50 boats would be $39,500 with a $1000 deposit for the hull. Deposits started coming in very quickly and soon exceeded the 50 boat mark. Bill Stevens negotiated a deal with Hansheng Yachts. The factory had built composite boats from 1984 and Bill had worked with them before.

Production started soon after. Several prototypes and a lot of testing later the first boats started to arrive to their owners in the United States in the end of 2006. Stevens and Perry ware right. There was a huge demand for a dead-simple high performance sport boat at an affordable price.

Over 150 boats have been sold now and 65 delivered to customers, mainly in the United States and Australia. Our exhibit yacht, FIN-10738 ?Tigru? (hull #43) is the first Flying Tiger 10M in Europe.

?We believe that the Tiger will be a great success also on this side of the Atlantic?, Anssi Sallinen says. ?A sport boat that features great performance at an affordable price tag has a clear demand.?

The Flying Tiger 10M is delivered sail away (ex outboard and electronics) with all deck hardware, halyards, ropes and sails. The suggested retail price in the Scandinavian Countries and the Baltics is 65000?. The price includes VAT, customs duty, freight and shipping. Customers placing orders during the year 2007 can expect yachts to be delivered for the 2008 season.

More information:
Managing Director Anssi Sallinen
Phone +358-405-575-056
E-Mail anssi@flyingtiger.fi
URL: http://www.flyingtiger.fi
Här kan man se hur man plockar ihop den: