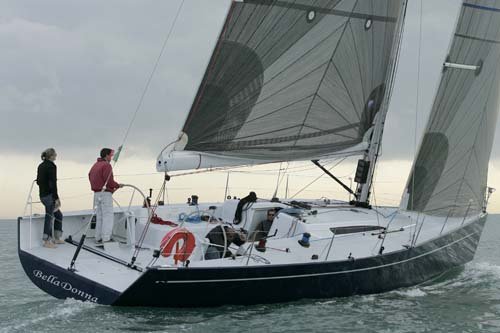 Ännu en modern racer/cruiser från Farr. Den här gången från Vismara Marine i Italien. Bella Donna (bilden) gick bra i Rolex Middle Sea Race (3:a i IRC 2) men haft svårare i en del andra race (de flesta under ORC Club).
I Sverige är det True Yachting som representerar Vismara. Priset lär landa någonstans kring 450k?.
14.00 x 4.10 x 2.80 m. 9100 kg varav 4800 i kölen.
P= 19.57, E= 6.70 m, IG= 19.07 m, J= 5.42 m
Total sail area (mainsail+foresail)= 126 m²
IRC TCC = 1.219
ORC Club GPH = 512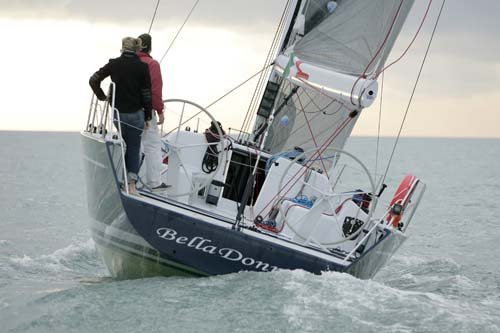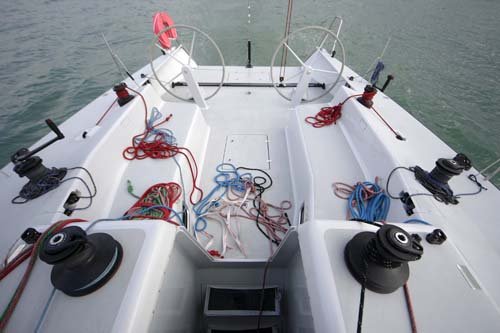 The new 46′ racer/cruiser is the result of collaboration between Vismara Yacht Design and Farr Yacht Design.

A careful research was carried out for this sailing boat in order to optimise her rating for the IRC class rules. For this reason, both design offices have analysed the principal characteristics of different vessels, which are racing under the IRC rules at the moment.

Farr Yacht Design have developed different hull shapes, appendages and sail plans, while Vismara Yacht Design developed the materials specification, the interiors and the deck layout and carefully analysed the racing conditions in the Mediterranean Sea in order to optimise the performance.

This new racer/cruiser results particular against the IMS class and the mass production boats such as X-Yachts and Grand Soleil:

The hull lines are wider at stern and higher sides to obtain a longer dynamic waterline
It has a large sail area of 126 m2
It has a high stability index, with a keel weight of 4800 kg
The boat is made of vacuum bagged E-glass and carbon/epoxy sandwich in order to obtain a very light vessel

Not only the performance of the boat was carefully studied for the IRC class but also his interiors. The vessel has three comfortable double cabins and a forward toilet (another one can be added on request). The interiors layout is symmetric and it was studied to be easily transformed from a single wide-open space during racing to more private areas during cruising.

The interiors style is typical of the Vismara sailing boats. It's warm and welcoming but at the same time very modern, mixing the composite materials of the hull and bulkheads to 'Tanganica' plywood panels in order to obtain the effect of separation between structures and furniture, even if every panel has an important role in the overall structure. In this way the boat results much lighter but also robust.
The boat is now under construction at Marine Services boatyard in Viareggio (Italy) and it is due for launching at the beginning of Summer 2006.